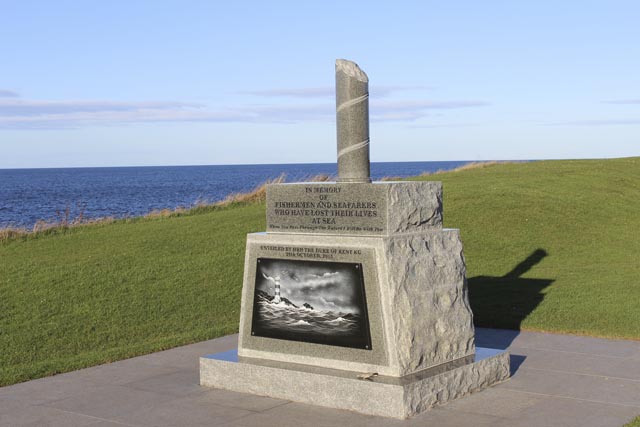 The Fishermen & Seafarers Memorial
This beautiful memorial is up on the lawn just beyond the Marina in Whitehills. Since the unveiling on 26 October 2015, many have stopped and reflected on its significance. It is a place to find closure, to give some peace of mind. There are no dates or names on the memorial. The memorial is there for anyone and everyone. Over the years quite a lot of fishermen left their backdoor and never came back. It is very pleasing that the memorial is already serving its purpose as people visit from near and far.
From Chas Findlay:
The Memorial was suggested by a local ex fisherman who considered it to be a worthwhile project in memory of those who had gone from our shores never to return.
A committee was formed and fundraising for the project began. A design for the Memorial was drafted and a Memorial Specialist was contacted to find out what the cost would be. We also contacted the local Community Council as they owned the land, where we considered would be a good place for the structure to be situated, to ask permission to erect the memorial on their land. The memorial is Grey Karen Granite with a black granite insert with an etching of the sea; it has a broken mast on top depicting a life cut short. The permission was granted without delay.
Letters were sent to fishing and oil related businesses and many others in the North East and the Islands. We received donations from Shetland to the South of England for the project and were encouraged by the generosity. Plans were submitted to the local council and were duel passed so it was all systems go.
We approached Mrs Claire Russell, the Lady Lord Lieutenant to enquire if it would be possible to have one of our Royal Family to unveil the Memorial. This was put in motion and we awaited a date when this would happen.
In August 2015 the memorial was erected by Aberdeen Memorial Specialist, a stunning structure worthy of the cause. Paving stones were added and all was ready for the unveiling. HRH the Duke of Kent KG unveiled the Memorial on 26th October 2015 – that was a day to remember. After arrival and introductions to various organisations, HRH spoke to the school children from the local Whitehills Primary School. A wonderful day they will remember.
The Memorial has a Facebook page and gets regular viewings.